At Michael's the other day- I picked up this little template I saw at the checkout- it looked like too much fun to pass up!
I made a fabric flower with it that same night! 🙂 I used some silky silver fabric that I had in my craft room– and it worked like a dream!
Here's a quick video!
I added an i-top topper- so that I could attach it to a headband, barrette or a ring for my daughter! 🙂 Love my I-top!
Side View
I loved how EASY this was- and I can truly see these pretty, frilly flowers on ALL kinds of things!!
Also, don't forget you can get a FREE YUMMY Cake Pop at Starbucks today thru Saturday from 2-5 pm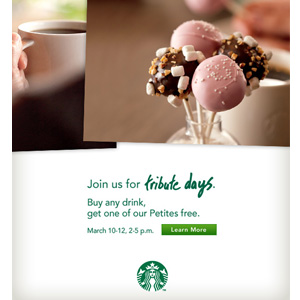 I've had the Birthday Cake and the Tiramasu- and after having them, I dreamed about them the whole next day 🙂
Here are my kids eating them! 🙂
Jaxen had the Rocky Road one
(sorry the pictures are a little blurry- I was taking them while Mr. Pink Cricut was driving)
And, Alexis had a Birthday Cake Pop
They both loved them as much as their momma! So, guess where we are going Thursday, Friday and Saturday!! LOL
HAVE A GREAT THURSDAY EVERYONE!