I have received a couple blog awards-that I wanted to share with you all!
Tangee at Kricut Krazy gave me this Blog Award for having a blog that inspired her! I love seeing Tangee's work, and her enthusiasm for crafting and Cricut!
Thanks so much Tangee, I am honored! 🙂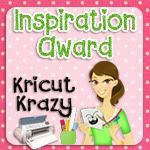 Linda from Cards By Linda, presented me with 2 awards last week!  Thank you so much Linda, you are too sweet!  Linda started blogging just a couple of months ago, and I am excited to see her work over the next months!